Richard Mille ha pasado de ser elegante a sumamente colorido con su nuevo reloj RM 71-01 y su colección divertida nombrada Bonbon. Relojes inspiradores y sumamente creativos, para darle un toque especial a tu tiempo.
Diseños impresionantes y muy diferentes nos ha proporcionado la marca a lo largo del tiempo.
RM 71-01
El reconocido reloj suizo, una obra de arte para mujeres. Apodado The RM 71-01 Automatic Tourbillon Talisman y hecho por la talentosa diseñadora Cécile Guenat.
La magnífica pieza tiene diez impresionantes combinaciones de caratulas y gemas. El reloj está fabricado casi en su totalidad con titanio, que ayuda a reducir el peso, y de la misma manera proporciona la calidad y la durabilidad que los consumidores buscan.
The "Bonbon" Collection
Una colección diferente que abarca 10 modelos con un total de 60 colores brillantes. La marca la clasifico en dos líneas su nueva colección "Fruit" y "Sweets" mostrando así el estilo creativo, colorido y artístico.
La complejidad de los relojes se puede rescatar tan solo sabiendo el hecho de que cada una de las pequeñas esculturas en miniatura fueron hechas completamente a mano; pintadas en acrílico.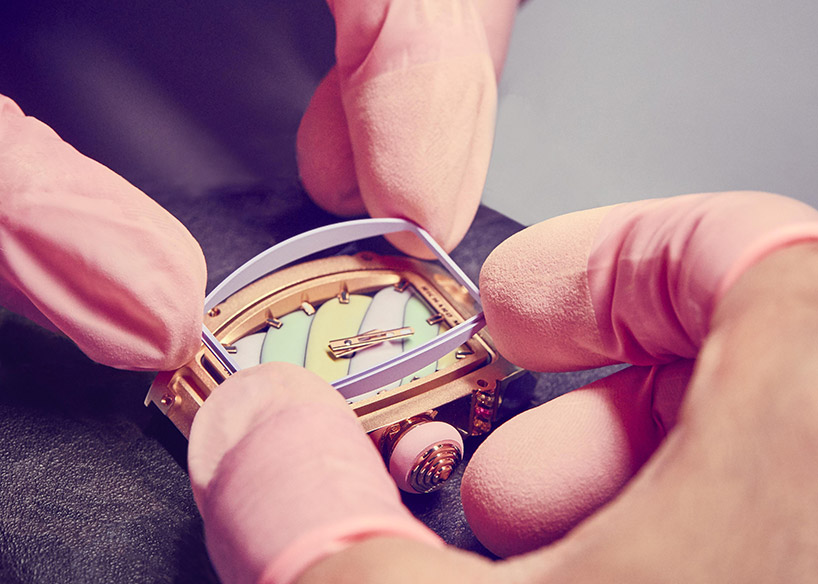 Todo con un enfoque moderno, rebelde con colores brillantes que te hacen sentir que lo emocional llego a los relojes. Cada modelo fue producido en una edición de 30 piezas. La colección es fabricada con estándares técnicos superiores de la marca.
Los diseños ofrecen una gran variedad de tonos y texturas, con algunas coronas, cajas, golosinas, k o gelatos. Cada reloj con una personalidad única e irrepetible, como si te contara una gran historia y te regresará a la infancia.
Y es que la marca Richard Mille ha superado a muchas, ya que a logrado plasmar cosas inigualables y ha hecho de sus piezas únicas y temáticas convirtiéndolas en objetos con más valor que lo monetario. A sus relojes les brindo la magia de ser representativos a la vida.


Escrito por: Gladis Verdugo Núñez